Lensed & Tapered Fibers
LaseOptics specialized in lensed fibers, tapered fibers, shaped fibers for the commercial and research market place including laser pigitail, semiconductor lasers coupling, optical systems and telecommunication applications. Our in-depth knowledge and experience with lensed fibers, shaped ends, tapered fibers, and custom lensed termination combined with excellent service enable us to provide the best possible support for those companies developing applications in these areas.
LaseOptics is a manufacturer of biomedical/biophotonics lensed fiber probes and arrays. Fiber optic probes are a key element for biomedical spectroscopic sensing. We review the use of fiber optic probes for optical spectroscopy, focusing on applications in turbid media, such as tissue. The design of probes for reflectance, polarized reflectance, fluorescence, and Raman spectroscopy is illustrated. We cover universal design principles as well as technologies for beam deflecting and reshaping.
LaseOptics specialized in polarization maintaining lensed fibers with slow axis termination. We manufacture of high quality lensed fibers, medical cables, lensed fiber bundles, repairs of any fiber optics cables or patch cords. LaseOptics is manufacturer of high quality lensed fibers in several shapes like conical and ball lens and double wedge (screw driver) shaped etc. and we do AR coating and Metallization on lensed fibers, we will make custom lensed fibers.
Additionally, LaseOptics is manufacturing two wavelengths mixed medical fiber bundles with connectorization of SMA, FC/PC, FC/APC, ST and SC, for other dental and photodynamic therapeutic purposes. LaseOptics lensed fibers are high performance components for collimating, focusing light and improve coupling between optical fiber and laser diode, active devices or photo diodes. The manufacturing processes allow the light can be transformed to improve mode matching and coupling efficiency with the waveguide device, laser diode chip or photo diode chip.
The characteristics of the Lensed Fibers depends greatly upon the applications. For laser diode and waveguide coupling applications, beam quality is paramount. The focused spot characteristics must match the waveguide characteristics as closely as possible to ensure good coupling. In contrast, fiber to photodiode coupling does not require a high quality beam. Only one has to ensure that the focused spot size is smaller than the photodetector. Thus taper fibers for photodiode applications can be offered at a much lower cost. LaseOptics lensed fiber technology enables high-end lenses to be manufactured in volume at low costs.
Effective and efficient fiber optic solutions, LaseOptics recognizes that customization is the key to your success. LaseOptics can increase the coupling speed of the light by using our lensed fibers and fiber optic cables.
Applications Notes:
How do Lensed fibers work? Shaped/Lensed fibers work by focusing the light to improve the mode matching between a waveguide and the fiber. Normally we try to get a lensed that produces a Gaussian beam. Ideally the Lensed fibers should be made to precisely match the laser diode or waveguide characteristics. Be prepared to supply as much information as possible to help develop the ideal lenses.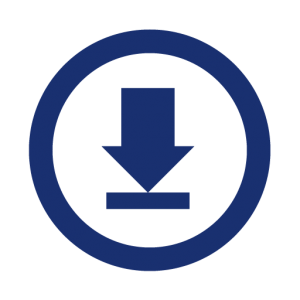 For more information Please download;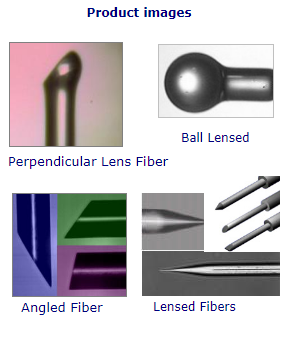 Applications:
•Active Components Pigtailing
•Coupling to circular or Elliptical outputs
If you require any of the above products, we need this information:
•Shaped-End Tips
•Fiber Size (Core, Clad, Buffer)
•What wavelengths are you using
•End Finish (Polish, Cleave, Lens)
•How long should be the Fiber
•Overall Assembly Size
•Fiber Anchoring (Epoxy, Bare, or Other)
•Jacket, Buffer, and Strength Member Materials
•Numerical Aperture (NA) of Fiber
•Termination Type (FC, ST, SC SMA, Shaped, or Other)
Applications:
•Telecommunications
•Active Components Pigtailing
•Coupling to circular or Elliptical outputs
•Medical and Dental
•MEMS device connection
•Waveguide packaging
By using cutting edge technologies to manufacture lensed fibers and shaped fibers, and tapered fibers, we can provide specialized lensed fiber cables for FiberCom, OpticalCom, Telecom, and biomedical with single mode and multi mode fibers.